Community Profile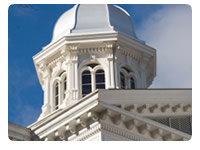 Carson City is a great place to live, work and play!
We are Nevada's state capital and the center to all the Sierra region has to offer. According to "The Rating Guide to Life in America's Small Cities," we are ranked at the 19th best "micropolitan" area in the U.S. The city encompasses over 146 square miles (371.8 kilometers) with 31.9 square kilometers of surface water. We sit at 4,687 feet above sea level, 39.14 degrees north of the equator, and 119.74 degrees west of the prime meridian.
Carson City is located in a protected valley surrounded on all sides by mountains featuring the dramatic peaks of the Sierra Nevada to the west and south. The city is located 30 minutes east of Lake Tahoe, 30 minutes south of Reno, 20 minutes west of Virginia City and 25 minutes north of Minden and Gardnerville in Carson Valley, truly the center of it all!
Carson City continues to enjoy dynamic growth, yet has managed to maintain its unique personality by blending the new with the old. Our community is rich in history, economics, culture, tourism, the arts and educational resources.
Vital Statistics
Carson City Population: 58,130 (April 1, 2022 Census)
As our population continues to grow, we find more ethnicity among our residents.
Currently, the ethnic mix in Carson City is as follows:
White (alone): 64.9 percent
Hispanic: 24.9 percent
Black: 2.0 percent
Median Age: 42.3 years
Median Income: $62,217
Persons under 18: 20.6 percent
Persons over 65: 20.2 percent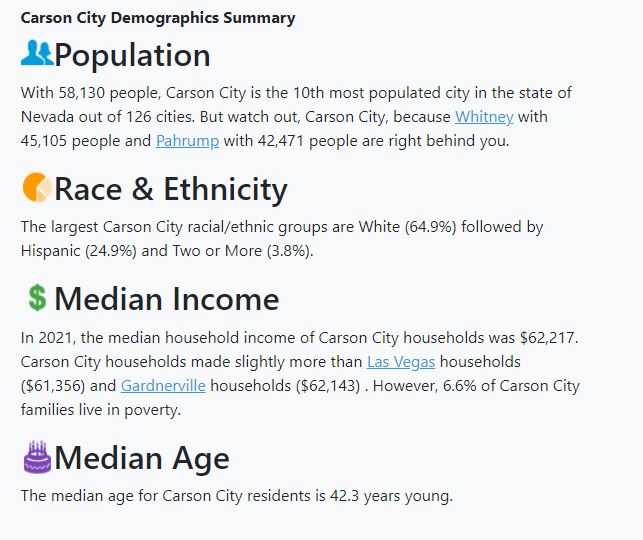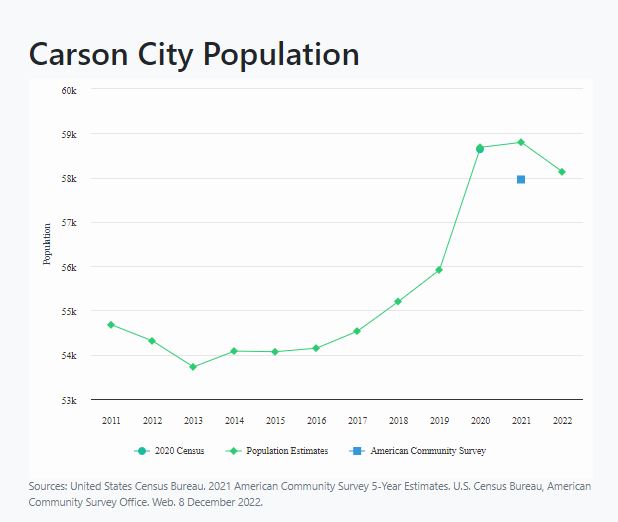 The figures from the 2022 Census provide the Quick Facts on our community: