Carson City History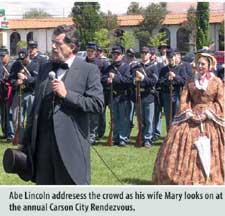 Nevada history was made in Carson City. Founded in 1858 by pioneer Abraham Curry, Carson City takes its name from the nearby Carson River, named for early frontiersman Kit Carson. Following organization of the Nevada Territory in 1861, Carson City was designated as the territorial capital and the county seat of Ormsby County.
In 1864, President Abraham Lincoln granted statehood to Nevada and Carson City was selected as the state capital. Today, the Capitol is open to the public and features a free history exhibit on the second floor.
In 1870, the Virginia & Truckee, Queen of the Short-Line Railroads, was completed between Virginia City and Carson City and transported the rich silver ore from the mines. The last train between the two cities was in 1939. Today, there is a concerted effort between Carson City and Virginia City to bring back the historic V&T, creating a major tourism draw to the region. The Nevada State Railroad Museum in Carson City houses many restored trains of the famous historic line.
In 1879, a branch of the United States Mint was established in Carson City to strike coins from the Comstock Silver Lode. Abraham Curry served as the mint's first superintendent. Today, the mint stands as the Nevada State Museum and offers interesting exhibits that will delight all ages including a ghost town. The visitor exits through a silver mine.
Carson City's historic residential district dates back to the 1860s and is the largest historical home district in Nevada. Fifty-nine historic buildings and sites are identified along the blue line known as the Kit Carson Trail. Much of the district has been restored to its early turn-of-the-century look. The historic Governor's Mansion is located right in the heart of the historic district.
Carson City was once a part of Ormsby County. In 1969, the county merged into Carson City to consolidate government services and is now a consolidated municipality, making for a much more efficient government.
The theme of the Carson City Freeway Enhancement Project is "Carson City's History in Motion." This is your guide to the historic vignettes that are presented at each of the gateways and interchanges of the Carson City Freeway/Bypass. Carson City Freeway Landscaped Enhancements